Villas in Puglia
Villas in Puglia
Experience the beauty and culture of Southern Italy when you stay in one of our luxurious villas. 
With options ranging from villas with private pools to those perfect for a romantic getaway, Puglia is an ideal destination for a special family holiday. Enjoy the best of Italy when you book your stay now!
Find the Right Accommodation to Meet Your Needs
When booking a holiday to Puglia, it's important to find the right accommodation for your needs.
Consider the size of your group and the amenities you require – such as a private pool, beach-front access or air conditioning.
Research different options so you can be sure to find a luxurious villa that is perfect for an upscale holiday experience in Puglia.
Explore the Italian Sun in our Villas.
Imagine relaxed days spent basking in the sun at some of the most stunning villas.
Our spacious, high-end villas are full of desirable amenities that will make your getaway one to remember.
Take a dip in the private pool, relax and unwind on a secluded terrace or stroll around the beautiful Italian gardens.
Enjoy charming evening dinner parties on the outdoor patio with friends or soak up some culture and sights in nearby attractions.
Villas in Puglia for Rent - Where to Stay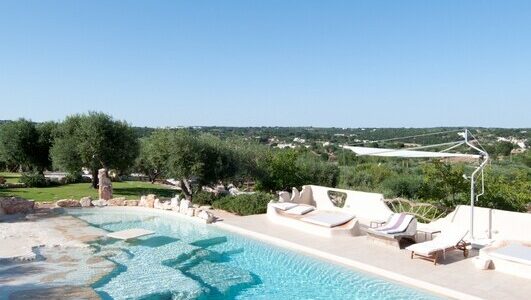 Villas in Puglia?
The most beautiful villas for rent in all of Puglia and, maybe, of Italy are on www.discover-puglia.com the website.
Making Puglia the perfect destination for your next trip to Italy.
Puglia:
The perfect place for a luxury vacation.
Picture,perfect landscapes, sandy beaches and delicious food.
In other words live an unforgettable vacation experience.
With our villas for rent in Puglia, you can make your dream holiday a reality.
Deatails:
Our villas for rent in Puglia are the perfect way to make sure your vacation is luxurious.
Another key point each villa offers a unique and private setting ideal for couples, families or groups of friends who want to enjoy complete privacy.
Features:
Our Puglia villas come with all the luxuries including: swimming pools, outdoor decking, air conditioning, Wifi and more.